100% Skate Club is a place for women, girls, trans and non-binary skaters. We are committed to creating safe skate spaces for Black, Indigenous, People of Colour, LGBTQ2+ and people with disabilities. All ability levels welcome. We are a non-competitive club.
All skaters must fill in our 2022 Season WAIVER.
For the 2022 season we are implementing a paid membership format for our Wednesday evening sessions.
First session for children 8-12 is May 4, 2022.

First Teens and Adult session is May 11, 2022.

We will be splitting our Wednesday night sessions into two groups, by age.

Groups will meet on alternate Wednesdays from 6:30-8pm at various skateparks.

Sessions will be in a clinic style with mentors, focussed on skill-building.

Membership is for Age 8+. Skaters must be 8 years old by December 31, 2021. You will be refunded if your child is born in 2014 or later.

There is no top age limit.

Wednesday sessions are facilitated by Erica, Marlene, and our skate mentors.
NE Girls' Skate Group @Genesis Skatepark
Fridays, beginning in June 2022 from 3:00-4:30pm.

Open to girls 13-18 years old living in NE Calgary.

Membership for our NE Girls' Skate Group is free.

These sessions are facilitated by Peggy and our skate mentors.
Any woman, girl, and non-binary skateboarder aged 8+ (as of Dec 31, 2021) who wants to skate with a bunch of rad skaters in a fun, relaxed, and supportive atmosphere.
All skaters must fill out our 2022 waiver.
Minimum skill level you need to join:
You should be able to control your skateboard without any help.

You should be able to stand on your board, push and turn.

You should be able to get out of the skatepark bowls by yourself.

You must review and understand our Skatepark Rules video.

Helmets required for those under 18 years of age.

Elbow and knee pads, plus wrist guards highly recommended.
We will have some events where non-members can attend, such as Market Collective, Ice Cream Run, and Go Skateboarding Day.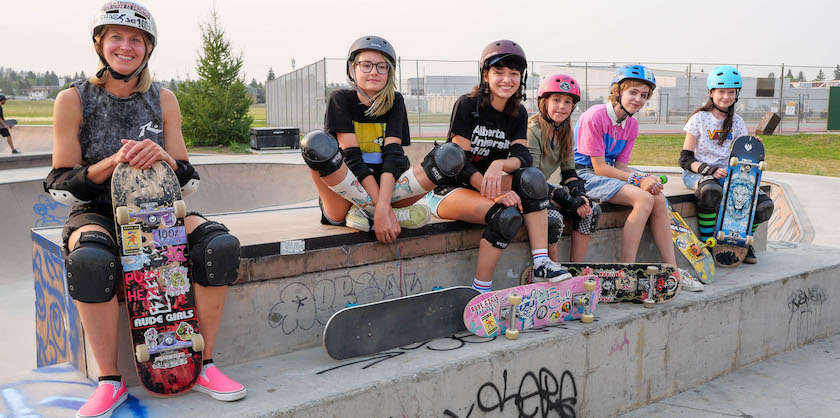 Registration will be open April 15, for the 2022 Season.
Step 1 for Everyone – Fill out the Registration Form and 2022 Waiver Note: If you are under 18 your parent or guardian must sign the waiver.
Step 2 for Wednesday night sessions only – If registering for the private members-only Wednesday night skill building sessions, you will need to pay your $50 registration fee. We use Stripe Payment Processor.
Please note: If we don't receive your payment your registration will be incomplete and you will not be in the club.
If you have any questions, email us: 100percentskateclub@gmail.com
Wednesday Session Registration
If you have PAID and filled out your registration form, you will be sent information about our Wednesday members-only sessions via email before your first session.
Update April 22 – Our Wednesday groups are now FULL
See you next year!
What does membership get you?
Access to a vibrant inclusive 100% Skate Club community
Organized 100% Skate Club sessions with skate mentors
Private skill building sessions with skate ramps and coaches
Insurance through Canada Skateboard
Discounts from our sponsor shops: Shredz, Industry, Rude Girls
Free entrance to special events
Official 100% Skate Club Membership Card
---
---
Subscribe to our Newsletter