Our 100% Skate Club season runs from May 1 to September 30.
**Please note: Our start date, and our sessions may be modified due to Covid-19 restrictions.
For the 2021 season we are implementing a paid membership format for our Wednesday evening sessions.
We will be splitting our Wednesday night sessions into beginners, and intermediate/advanced.
16+ age group sessions will be operated as a Drop-in on scheduled Saturdays or Sundays throughout the season. Membership for our 16+ sessions is not required.
Non-members will be charged a small fee to attend special events and our year end party.
We will post a full calendar of our skate sessions by May 1.
Any woman, girl, trans, and non-binary skateboarder aged 8+ who wants to hang out with a bunch of rad skaters in a fun, relaxed and supportive atmosphere.
Minimum skill level you need to join:
You should be able to control your skateboard without any help.

You should be able to stand on your board, push and turn.

You should be able to get out of the skatepark bowls by yourself.

You must review and understand our Skatepark Rules video.

We will likely still be under some Covid restrictions this season, so we will be hands-off.
We will have at least two events where girls under 8 years old and non-members can attend, such as the Ice Cream Run, and Go Skateboarding Day.
Registration is opening in April. We are still working out all the details.
Registration links coming soon!
Deadline to register is June 1, 2021.
You will have to pay the membership fee, and fill out a waiver of consent and liability at the time of registration.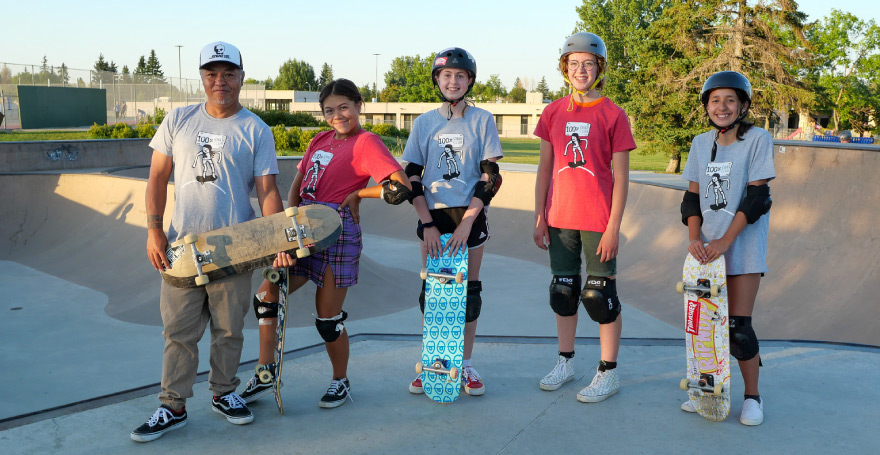 How much does a membership cost?
Membership for the 2021 season will be $50.
If you would like to sponsor the membership fee for an additional skater, please let us know via email to 100percentskateclub@gmail.com
What does membership get you?
Access to a vibrant inclusive 100% Skate Club community for women, girls, trans and non-binary skaters.
Weekly organized 100% Skate Club sessions with skate mentors.
Private skill building sessions with skate ramps and coaches.
Insurance through Canada Skateboard.
Discounts from our sponsor shops: Shredz, Industry, Rude Girls
Membership SWAG bag full of goodies.
Free entrance to special events.
Official 100% Skate Club Membership Card.
100% Skate Club T-shirt and stickers.
---
---
Subscribe to our Newsletter