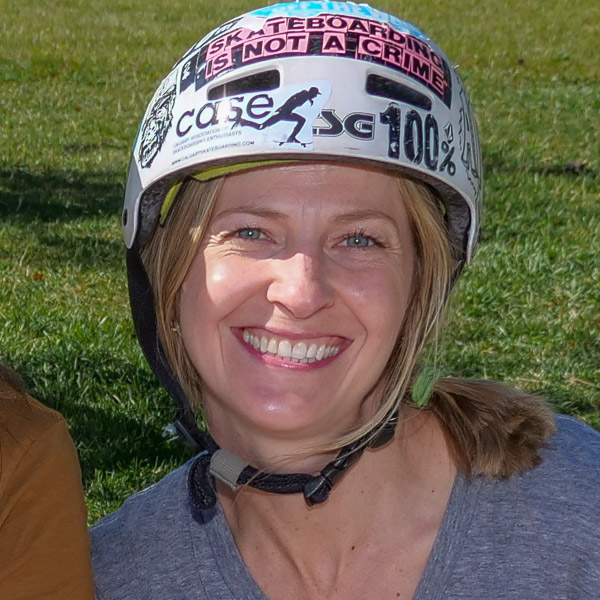 Erica is the President of our Board
I started skateboarding at age 20, I fell in love with the freedom of expression it gave me. I competed locally and nationally throughout my 20's. Travelling with my skateboard, I met amazing friends along the way.
In my 30's, I decided to change my skate path into a community leadership role and founded 100% Skate Club in 2015. My goal is to bring girls and women together in a welcoming and safe community, to have fun and share our passion for skateboarding!
Marlene is the Vice President of our Board
I started skateboarding (again) at the age of 50. I've been attending 100% Skate Club since our first sesh on April 1, 2015. In season two, I began to help Erica by managing the photography and social media for the club.
As 100% grew and became a non-profit in 2019, I became involved with connecting and collaborating with community partners, and strategic planning to ensure 100% Skate Club goals are met now and in the future.
I'm also the fierce protector of our members, ensuring they feel safe and empowered to take up their space in Calgary's skateparks.
Skateboarding has changed my life. It's the first community where I feel like I belong, 100%!
Peggy is our Secretary and Treasurer
I started skateboarding in 2016 after much encouragement from my husband Brian, an avid, lifelong skateboarder. He introduced our daughter, Emilia, to 100% Skate Club sessions that spring. With Emilia and our son, Makai, beginning to skateboard, I knew this train was leaving with or without me, so I got on board.
In the beginning, I felt nervous, out of place and in everyone's way, but soon I met a number of women within the 100% Skate Club community, including Erica and Marlene. They encouraged me to take my turn in the bowl and also to take up space at the skate parks.
Today, we skate together as a family and take our boards with us when we travel. I am grateful to share the love of skateboarding with my family and this supportive, welcoming and diverse community. I look forward to supporting and furthering the vision and growth of the 100% Skate Club.
Tammy does our social media and event planning
In 2021 our family started spending more and more time at skateparks due to our girls really taking a keen interest to skateboarding. My husband and I decided that we needed to very quickly 'jump on board' too. From the get go, I was blown away by the kindness of total strangers volunteering to help my kids out. The skate community is very welcoming and encouraging!
Now, as my skill level and confidence have grown somewhat, I try to emulate that same sense of community. I embrace being the skatemom that helps others when I think they might need an extra hand. On one occasion, I took off my own knee pads and wrist guards to help somebody feel safer while learning to drop in! I am delighted to be helping out 100% on the social media front!
Crystal and her team at Full Blast Creative provide our website and tech support
I joined 100% in the summer of 2017 after John Hiebert, a local Calgary skater, told me there was a club for girls and women. I now assist 100% coordinating their digital marketing through their website, social media and helping Erica and Marlene however I can with our meetups and events. The truth is, I don't think I would have taken my skateboarding to a skatepark, for fear that I wouldn't fit in, if I hadn't learned about 100%. I didn't realize until that first night how wonderful it is to be a part of a community of girls and women, just like me, that love to skate. To echo others, skateboarding changed my life!
---
Subscribe to our Newsletter